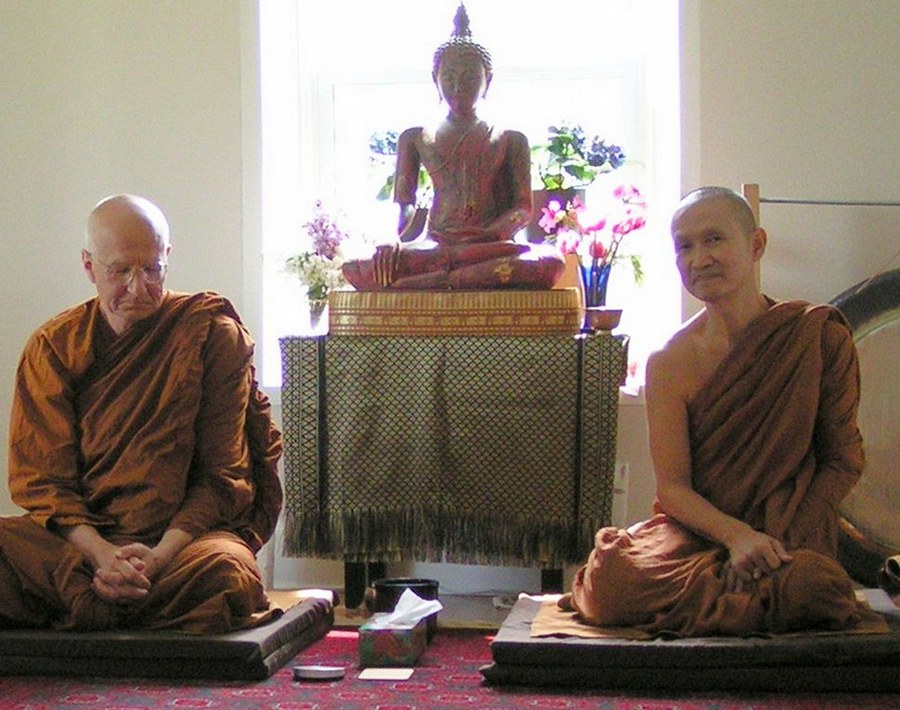 This week of Vesakha puja, the full moon of May, we were graced by the presence of one of Thailand's most venerated meditation masters and disciples of Ajahn Chah, Venerable Ajahn Dtun (Thirachitto).
Born in Ayutthaya, Thailand in 1955, by his teen years, Ajahn Dtun already felt inclined towards monastic life. In 1978, after receiving a bachelor's degree in economics, he was accepted to a Master's program at the University of Colorado. He had thought to further his studies and look after his father until he could ordain as a monk. But one evening, while reading a book on the Dhamma, he came across the last words of the Buddha, "Monks, all things that arise will pass away. Strive on without heedlessness."
He was so moved that within two months, he arrived at Wat Nong Pah Pong to ordain with the Venerable Ajahn Chah. He resolved "to ordain for life and be in the forest or in caves like the Buddha". With his great skill and determination, Ajahn Dtun soon became an accomplished meditator. He travelled to other branch monasteries and stayed with Ajahn Piak and Ajahn Anan at Wat Fah Krahm for 4 years. Then he helped Ajahn Anan establish Wat Marb Jan on a forested mountain and after five years, in 1990, he went into solitude in the forest of Boonyawat in Chonburi province to further his practice.
After two and a half years of seclusion, 100 acres of land was offered to establish Wat Boonyawat under Ajahn Dtun's leadership. In 2008, he was diagnosed with stage 3 colon cancer and in the following year of treatment, he underwent 4 major surgeries and 12 courses of chemotherapy.  Devotees eager to do good works to prolong his life donated more land for a stupa to be built.
Ajahn Dtun is now in good health and residing at Wat Boonyawat. The monastery encompasses 200 acres of forest and many flock there to listen to his teachings. There are regularly 40-50 monks that live and practise under Ajahn Dtun's guidance and he also travels to visit monasteries in Western countries. During his stay at Tisarana Monastery, he kindly accepted our invitation to visit Sati Saraniya Hermitage accompanied by Ajahn Viradhammo and Ajahn Tejapañño, his translator from Australia.
We are deeply inspired and blessed by this remarkable meeting with Ajahn Dtun as we near completion of the temple building.  May we follow his heroic example and heed the Blessed One's exhortation to strive diligently on the Path of awakening.