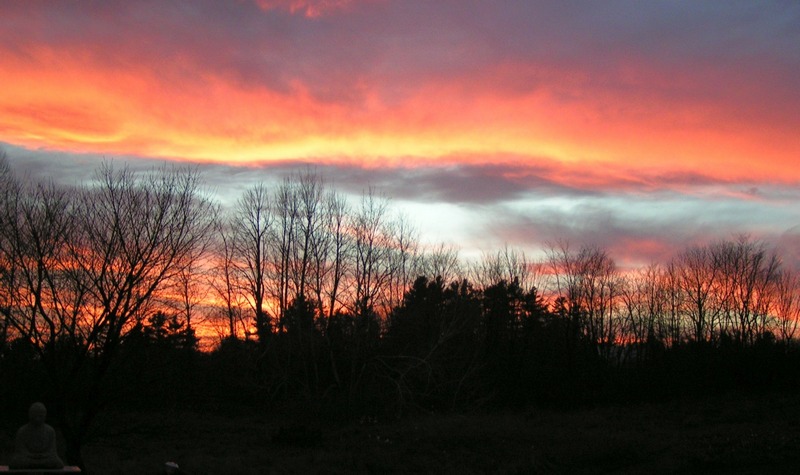 As winter approaches, we pause, like the blue-gray forms of forest and field that silently witness the season's change. We contemplate the changes we have seen just in this last year; the passing away of good friends, beings born and to be born, friends who have graduated and found work, and others newly retired from long years of working.
Here at the Hermitage, many special visitors have come to share blessings with us. We have seen Anagarikā Ahimsā (Robyn Church) grow in her training as a postulant through her faith, commitment, perseverance, service and good-will. When Bhante Gunaratana blessed us with a visit in May, he said to her, "Next time I come, I hope you will be ordained."
An ordination, like a wedding, lasts a short time, but the fulfillment of our vows depends to a large degree on the quality of our endeavour. In what do we really take refuge? And can we stay the course?
For all of us, that's hard to do especially when things are uncertain or break down or when the dark days of winter draw in. At these times, faith and determination can brace us to keep sowing the seeds of our own freedom. We may not see immediate results, but at least we can bless this hour, this day, the very breath or step that we are taking right now.
If we can see life with Right View – knowing how things truly are, and act from Right Intention – to develop skilful qualities of mind, we can meet change with greater peace and wisdom in our hearts.
So it has been with building the temple. What began as a mere sketch on a piece of paper is now a temple in progress standing outlined against the sky. We have been able to reach this stage of the project due to the faith, generosity and encouragement we receive from all of you, near and far, coming forth to support the work we are doing.
Through the convergence of these collective wholesome intentions, we are reminded that this is more than just a temple for nuns. We are creating a spiritual resource and sanctuary for generations to come.
At the cusp of a new year, it is time for our annual 3-month retreat when we devote ourselves to meditation. While the builders carry on constructing the temple, we hope that our practice will be a source of blessing even in some small way to each of you. May we all strive to purify our hearts and bring forth greater loving-kindness and compassion in this world now, as we begin a New Year, and for all the days of our lives.